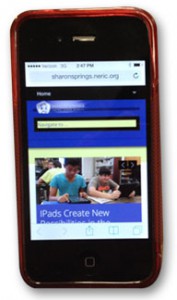 The Sharon Springs Central School District website has a fresh new face. This new site offers many of the same features visitors are used to — and more.
Some of the new features include:
Among its many features, the new design is "responsive," meaning that the layout adapts to the visitor's device (from smaller mobile phones to larger desktop computer monitors). It provides an optimal viewing experience—easy reading and navigation with a minimum need for resizing, panning, and scrolling.
"The goal of this new website is to be the best way for students, parents and community members to stay in the loop with school and district news and information," said Superintendent Patterson Green. "We hope that it is an informative and user-friendly tool for all."